The Boxer may be a fantastic family pet, but it is also a very talented working dog, used in a variety of roles including as a guard dog, rescue dog, as well as in guide dog and sporting roles. Boxer dogs are generally good natured and can make good playmates for children and adults. Boxers tackle any task with merit.
The Boxer tends to be willing to subordinate themselves, which makes them easy to train. People who know Boxers describe them as uncomplicated and willing to learn, friendly to humans, without deceit. Thanks to their calm and balanced nature, they are ideally suited as family dogs, even feeling comfortable in families with small children. Boxer dogs love children and are patient and long-suffering, even with the most boisterous little ones, and will be happy to race and play, even into old age.
Boxers are extremely close with their families and incredibly loyal, which also makes them very alert to anything that might harm their happy home. Boxers may therefore be slow to trust strangers, and in extreme cases they will not hold back in defending their owners. They are known for their courage and tenacity, which makes them very reliable guard dogs, comparing well with similar breeds. However they very rarely react with a bite or viciousness. Once his person signals that everything is safe, he is easy to win over and quick to make new friends.
The boxer has nerves of steel and lots of self-confidence, which gives them great self-control. This steadiness helps to unify all of the initially contradictory character traits into a harmonious whole.
R-litter
D.O.B. 4 August 2023
2 brindle males, 4 brindle females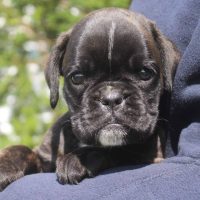 Brindle female 4 litter R
Date of birth: 2023-08-04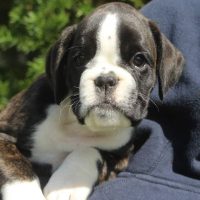 Brindle female 3 litter R
Date of birth: 2023-08-04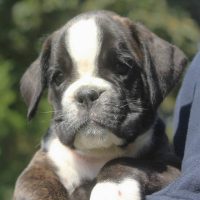 Brindle female 2 litter R
Date of birth: 2023-08-04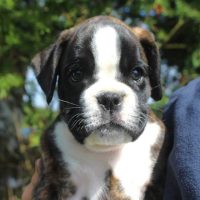 Brindle female 1 litter R
Date of birth: 2023-08-04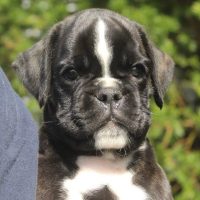 Date of birth: 2023-08-04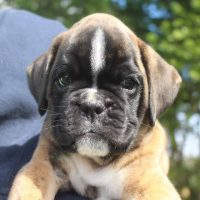 Date of birth: 2023-08-04
P-litter
D.O.B. 10 April 2023
4 brindle males, brindle female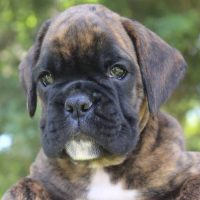 Date of birth: 2023-04-10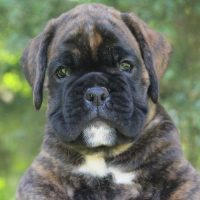 Date of birth: 2023-04-10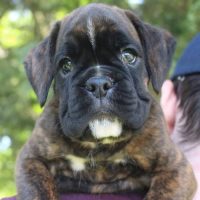 Date of birth: 2023-04-10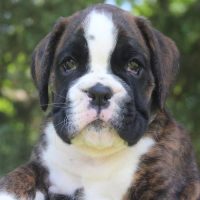 Date of birth: 2023-04-10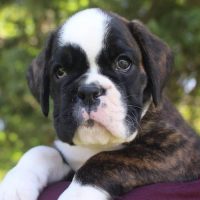 Date of birth: 2023-04-10